"It's beginning to look a lot like Christmas....! "
You know how the song goes.....
Christmas, C
hanukah
, & all other holidays are rapidly approaching. As you know, this year has been difficult on some folks, both financially & otherwise. So this year I propose to think outside the box, be unique & different, be creative .... give them a gift that means something & comes from the heart.... here are some suggestions
(& tune in every day this week for a new gift idea - they get better as we go along).
Creative & Personalized Gift #1
In addition to your custom rhyme or toast a la
Witty Words by L.A.B.
(wink!) you may want to pick up some plain old tree ornaments, some paint or paint markers, maybe some glitter, & let the creative juices flow!
You can paint initials or monogram it like so (use a cute ribbon to add a little something extra!) ...
You can use glue to jazz up the ornaments!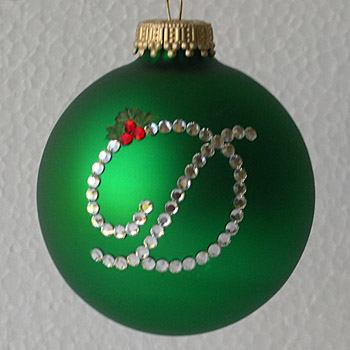 These make great gifts & shows them that you put some real time, effort, & thought into the gift!
Stay tuned this week for more creative, unique, & customized gifts for the holiday season!
XOXO